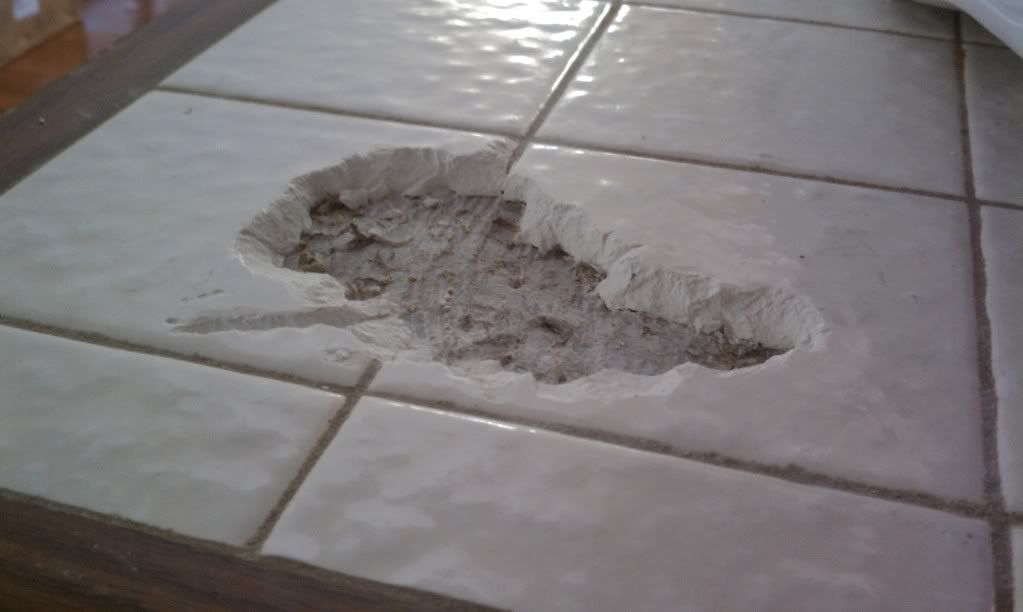 Moving a TV, playing patty cake, and add remodeling a kitchen to that list.



I'm warning you now that this is a long post, so go make yourself a sandwich and get comfy.


When I started this blog, I realized that I should have started it when I bought my condo and started remodeling. I got myself into some amazing nonsense that makes for great stories now. Like, when the retexture on my living room ceiling failed and I had to shimmy up a 16' ladder and scrape it all off. My mom knows about that part, but she doesn't know that I had to shimmy up and turn around and sit at the top to reach everything. While holding a scraper and spray bottle. Oh, the adventures I have...


One of my "long term" plans during my initial home remodel was to redo my kitchen counters. Circa 1981 and installed in such a way that I think six packs were compensation (and hydration during the install), it was time for them to go. Gots to go.


Well, actually, me being cheap I generally wait until things break before I replace them, my old car being the only exception I can think of here (it was just better for the both of us to part on good terms). So, back in January I was fiddling around with something in my kitchen and had the cabinet under my sink open. I was probably taking out the trash, I surely wasn't getting bug spray because the cat's pretty good about that job, it couldn't have been the fire extinguisher because I haven't been cooking much, and I seem to ALWAYS be taking out the trash. Those of you with dogs know why the trash lives under the sink. Anyway, out of the corner of my eye I saw a fast little flicker of light from the cabinet. Had my head been turned just a bit more, I wouldn't have noticed it at all. Investigation revealed that my garbage disposal housing had failed and was leaking. And, in an odd stroke of luck for me, I must of caught it right as it began as there was no water staining or damage whatsoever. But, it was time. If I was going to buy a new disposal and tear apart my plumbing I might as well replace the sink because it was nasty. But the old sink was an under mount, which meant the counters needed to be replaced if the sink was coming out. One little flicker of water created a big project for me. I suppose the alternative could be a big flicker of water that instigated a project. Ironically, this happened at work the other day when a fire hydrant was knocked off its base and the ensuing geyser flooded one of the buildings in our business park.


I'll take the wee little drip please.


Having a Home Depot literally a block from work (and a nice Home Depot too) is a bad thing. I was there the next day looking at tile. And again the next day. And several more times after that. I even went to Lowes, but I'm not terribly fond of them so Home Depot was visited several more times, usually in conjunction with some amazing idea Google found for me. I had some definite options in hand but honestly, I really wanted granite. Yes, it was a stretch on the budget and was probably a bit ambitious for a beginner, but dangit, I have to sell this place eventually so I had to make whatever I did worth it. Surprisingly, Home Depot had just the stuff I wanted for a reasonable price.


Sink and granite ordered and delivered, it came time to get down to business. The downside to natural stone tile is that the tiles rarely come with finished edges. They can be added commercially or trim pieces can be purchased, but these options are extremely expensive. So, what am I to do but do it myself?


Two weekends hunched over tile grinding and polishing, and they came out darn nice. The finishing compound, jeweler's rouge, has a funny little habit of flying off the polisher and landing on whatever is convenient. This happened to be my face as I leaned in to monitor my work. I noticed this after we got back from going out to dinner.


The term "rouge" is pretty much correct.


Tiles polished and time off work secured, it was time to really showed those counters what I thought of them. In response, they showed me what they thought of me.


This was about two hours of work. I swear I'm not that lame. This particular section refused to come up. I ended up prying it out whole.


The other counters gave in much more easily, especially when I got myself a 3lb sledgehammer and chisel ended crowbar. Insert evil snicker here.


I had this crazy idea that I would attempt to reuse the countertop base by chiseling the tile off, but after getting slapped around by my bar's tile I gave in and heaved everything out in heavy tiled pieces. This was actually a good surrender, as I discovered later that an area near my sink looked like it was threatening to rot out.


And 30 year old particleboard just isn't a good substrate anyway. All that lousy old stuff had to go somewhere. My HOA doesn't like us dumping stuff like that in the dumpsters. Well, I happen to have some grievances that we will save for another day, so screw it I say. So, gloved up and muttering under my breath at how ridiculous this was, I hauled all the 30 year old chunks out in the late evening when nobody would be around to tattle. Funny thing about late evenings at the dumpsters...that's when our divers come by. I was in the middle of hoisting a piece into the trash when one Cadillac driving diver came screaming into an adjacent parking spot. The piece's center of gravity wasn't yet in my favor so I had to dump it on the ground and bail out the other side of the dumpster corral. I spent five minutes nonchalantly strolling around the nearby units until he left. There is nothing suspicious about a redhead in red swishy track pants wearing utility gloves at 11pm. None at all. That dumpster driver almost ran me over later too.


I did go back and heave the piece into the dumpster. I didn't see them set out later, so our trash trolls must not have noticed them. Score. It's all in your timing - if you can get your forbidden items under the heaps of regular trash you can get away with it. I've, uh, got lots of experience with this.


And hey, did you know what the inside of a dead garbage disposal looks like?


Ok, back on topic now. And if you want to own an entirely predictable pet, get a cat. I said this picture opportunity was going to become available about a minute before she hopped in there, as I expected her to. Strange animals.


And curiosity just gets the best of her.


Once the counters were heaved out, I began what would eventually become two weeks of creative eating due to the lack of a kitchen sink. It's not as hard as I thought it'd be, but it certainly wasn't fun. Mom's cookies provide an exceptional amount of nutrition in a hand held package. The next step was getting new plywood cut and hauled home. This and tearing out one counter were actually the only tasks I had help with. I was pretty stoked to have some semblance of counters again!


And then came the scariest part: cutting out the sink hole. I measured about five times, centered up, measured more, panicked, made dinner, and finally committed. I didn't like only having chicken scratch measurements to tell me where not to cut. I also discovered that the design of my cabinet made this extra exciting because I literally had no room for error on the dishwasher side. One shot at it, better get it right!


I did, thankfully.


Then came time for some backerboard. I had the great fortune of buying something not quite appropriate for my job that I had to return, and got to bring more home. It was one of those days where I really loved how my car likes to eat things, like 3'x5' sheets of what is essentially cement (with a fancy useless grid pattern so you can pay more). I do admit that I sheepishly asked for a hand at Home Depot with loading, but I did the rest of it myself, darnit.


I spent the next day getting that stuff installed. Not the most fun of projects (especially when you are racing the clock with your mortar), but it gets the job done and will hopefully keep it looking nice.


And, FINALLY! Some fun with dry fitting! Dry fitting comes with some positives and negatives, so next time I won't do it. But I screwed a lot of cuts up so it was a good thing I did it because I could then play with my scraps. And a sad story: I had two pieces with the most beautiful grain that matched up perfectly. I positioned them right along my stove. I screwed up those cuts :( That grain did end up in a prominent edge trim, so not all is lost.



I should also note that I'd never used a tile saw before, but after a few passes we were good friends. I'd been told how to use it and warned that it'd be loud when cutting, but holy heck, I was deaf for half a day. Tile saws are also water cooled. That water has to go somewhere. Given that I didn't arrange for a table, I worked on the patio, balanced on the balls of my feet. My pants, were, uh, wet all day. But, since I was flying solo nobody saw anyway. Plus, it was a warm, sunny day. A pseudo bathroom accident isn't so bad after all ;)


This is about the point where I started updating friends on the status of my kitchen. Me, being the sly little jokester I am, took advantage of my magnetic fridge magnets to provide a reference on the progress.


and


I did take the opportunity to say hello to people as well.


Heaven help you if your name has two L's in it. I don't own any and only have one 7.


And alas, it is done.


What this picture doesn't convey is the absolute trauma of picking out glass tile for my wall behind the stove. I think I considered about ten options, chose one and returned the other nine, only to decide that I didn't like it any more. Rinse. Repeat. I found this tile literally hours before it was installed (and I love it!). I have a tricky kitchen because it's small and gets no natural light (and that wall gets no artificial light either), so dark tones are out. I can't do anything funky because I want to sell in a few years. And I'm a graphic designer, so if it isn't right it's GOING TO BUG THE HECK OUT OF ME. And, yeah, I'm quite lucky I found something just right.


May I present the contenders?


And, finally, a winner.


Pedicures be darned. I'm working.


That stuff was a beast to install too (mostly due to circumstance, the tile itself was hunky dory).


And, we have plumbing. Except, here the renegade 30 year old house strikes again. On an earlier trip to Home Depot the plumbing guy expressed serious concern over a picture of my water shutoffs. It ate at me for days before I finally called a plumber in to replace them. This is why you make a budget for a remodel project, detail it, and perfect it, and then double it. That was a stinger, but those water shutoffs were about to blow, so I suppose in the grand scheme of things it was cheaper than the damage they were about to cause. My new ones are much prettier than these.


My bank account a bit thinner, it came time to regroup and get this done! And I find myself again at Home Depot. Having never done any plumbing aside from troubleshooting a P-trap at work, I feared I was in for a big ugly surprise. Turns out it's super easy and basically a Lego set! Ahh, relief. If only my sink had been so easy to install (another beastly project that had me bashing and smashing assorted important body parts for hours on end). And it only took two trips, but on the second one I got a "you're back..." from the plumbing guy. I suppose one can't quite forget me for the stupid questions I ask.


I can't believe how HUGE my sink is compared to my old one, and it's the same size (just a few inches deeper). My five little orchids fit with room to spare, whereas it took two rounds to water them with the old sink. I suppose I should add a sixth now that there's room...


Add some sealer for the granite and it is done! I think it looks pretty darn good for a beginner but I notice where I could have taken my time, done something differently, etc. etc. But hey, this is my first time tiling and I won't live here forever, so I'll use what I learned and do a better job on my next kitchen :) Even just having a helper would have solved a lot of those issues, lol. But, now it's only me that sees these little boogers so everyone else thinks I did great! But, you know what? I think the new counters are so awesome that I barely remember the old ones and how nasty they were.


2012 comes with a planned bathroom remodel. The tiling in there will kick some butt. Depending on how long I decide I'll stay here there's a good possibility I'll tile my floors too. I'm already keeping my eye out for tile saws.


And, mommy, I did it myself!