So Mom, you have every opportunity to not blow your Christmas surprise right now.

Are you sure you want to do this, Mom?



It's really not a good idea...



It's dishonest.



When you die you'll end up in heck where they have spiders and pool drains and everyone cracks their joints once a minute. For those of you who don't know, my mom doesn't like spiders, gets grossed out by the sound a cracking joint makes, and she doesn't like being in close proximity to pool drains. Thanks to that last one I happen to be TERRIFIED of pool drains.



This is your last chance to not ruin Christmas, Mom.



Think of the children!



Ok, is she gone?



She would have forgotten what it was anyway :) Time is not being kind to my mom's short-term memory :D


My mom made the request earlier this year for a set of coasters for her sewing room (previously the dining room - watch out for pins in the carpet). I taught Alex some sewing basics a year or so ago, and from it we produced a nice little nine patch coaster for my mom. However, with as often as we have sewing company we needed more. I was granted free creative license for these little buggers :)


While thinking of what quilt block could be accomplished in a 4" square, I thought that perhaps a better approach might be to ditch tradition and go for what makes my mom's world go 'round - her children her kitties! My mom is a fool for cats. She's even done her little "Poody! Poody!" trill at my neighbors' cats. And with my recent adventures into machine applique this seemed like an easy adventure.


The first order of business was to figure out a design and to determine the construction of said coasters.

With a basic idea of shape and stuff, it was time to gather materials. These colors were picked out with a purpose...

This project was nice because it was cheap, haha. I just got quarter yards of everything and have a TON of leftovers. It could also be done with scraps, but as I've mentioned before I'm working on building up a fabric stash.


The fun in this project is that those fabrics were picked with specific kitties in mind...family kitties. Let me introduce...


John (the three arm cat)

Dream (a very quirky but loving cat who spent a portion of her pre-mom life as a lab cat...we miss her very much)

Angel (such an incredible goofball)

And Carmen, my moral gray area cat

And there you have the characters for my coasters. I added two generic cats to round out the number as well.


The first step was to develop the paper pattern:

And then get cutting! The fun in these fabrics is that you can take advantage of shading to make facial features. I used the light areas of this fabric to make Carmen's muzzle.

Stitching - with curves I think it is FAR easier to work for a large piece of fabric and trim it down later.

Here's how I did the ears. First I sewed a rectangle of fabric with the pink area and the coordinating "cat" color.

Then I traced the position of these pattern pieces onto the backside:

Faced it with the appropriate color, stitched, and trimmed.

This is everything that was done at this point:

Now comes time to start assembly. I created a backing using a base fabric attached to some fusible fleece (I LOVE THIS STUFF!!!) and simply topstitched from from the bottom up. I do have to say that when I typed that I wanted to refer to the pieces' index positions because my life has involved a lot of computer programming these last few months. I am SO ready for school to be over!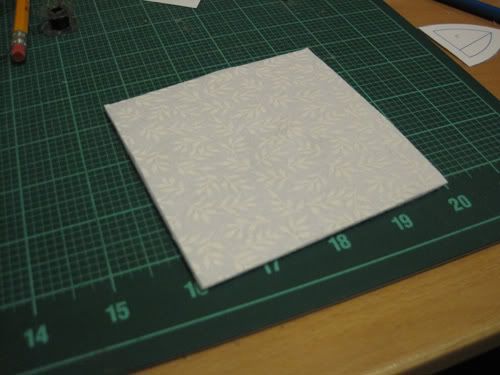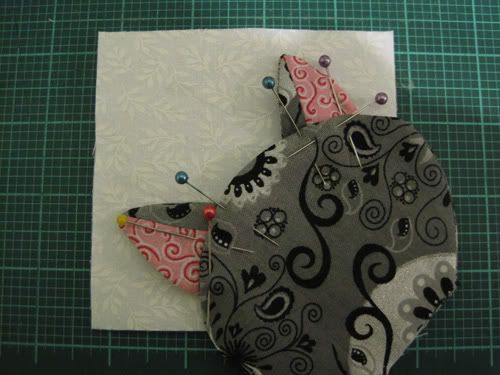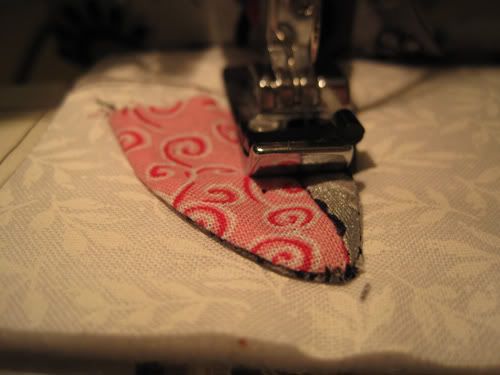 And there you have the bulk of the coaster. I created the rest in assembly line fashion, since there was a lot of thread colors involved and switching out bobbins and threads gets time consuming.

That got me this:

And then came backing and binding!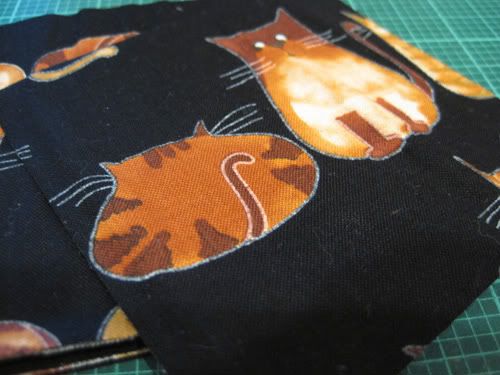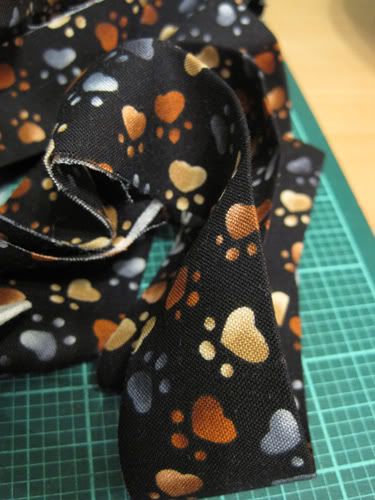 Binding finished

Flip them over and add a little nose. This one is John's coaster.

Here's all of them - can you find the four family cats?

I'm confident that my mom will really like these - they're so fun! And, I should also mention that this was the first Fortress of Stitchery project and it was sooooo nice to keep the mess out of the way! I still have a lot of setup to do in there to make it work well, but it was a nice little workspace because I set up the laptop in the corner and had Hulu going :)


This is the first of a few projects for family members. I'm trying to get those as soon as I can, but finals are having something to say about my desire to go sew!