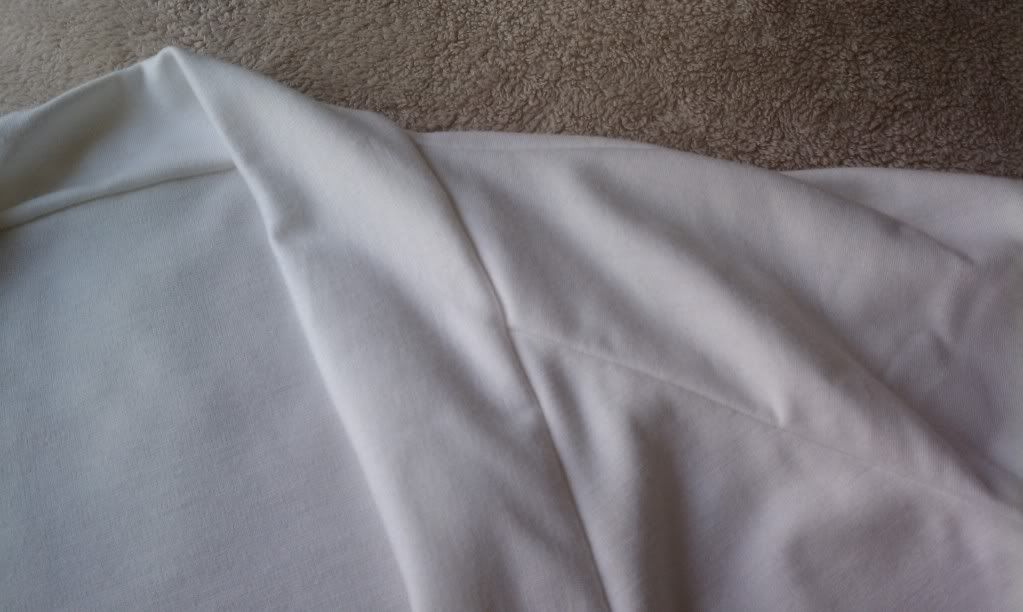 While I've been sewing for years, I've never really attempted sewing clothing. Clothes are simple in concept, but there's just so many darn steps. Plus, I'm not shaped like all those nice models in the pattern books. Fitting rooms are my friend.
I went out on a total limb and made a nice top to go with a gorgeous tank I found on clearance. To be perfectly honest, I'm amazed it came out so well. I even found my machine's stretchy stitches! I made this from a pattern but had to do quite a bit of modifying to take out darts and to make it an open front (the collar was an addition too). I made a sample out of muslin and didn't like it, but got tired of messing with it so I just fired wildly with my new revisions. I got lucky.


No, you're not going to get a picture of me wearing it. You'll have to see it in person. I rarely turn down lunch dates, by the way.


And in a related theme, I had some more fun with machine applique making some chalk bags for the pool table at work. Everyone loved them!


I know I've been quiet in here for the past few months. I decided that if I wanted to buy my next house, I needed to get serious on some things and I took a second job (hi Pam). That's been helping a bit, but there's still quite a ways to go. Since I'm working so much now, there's not much time for crafting but I decided recently that I wanted to get back into crochet and really teach myself to understand what I'm doing. Stay tuned for updates on that!