...by the gardening bug. I never thought that as a lowly second-floor dweller that I could ever do anything of horticultural merit on my small patio. I had also failed in pretty much every other attempt to keep something green alive. There was the Epic Veggie Slaughter of 2007 when I killed three vegetable transplants in a weekend. Yes, I did. But, the very lovely wife of my ward's former Bishop (hi Sister McKinley!) did something very nice for me two years ago. She got me a little purple orchid for my birthday and I made a pact with myself to keep it alive.
I love orchids; they are among my favorite flowers. I'm not sure if my appreciation for them started from my grandma Gloria, as I remember many trips to nurseries with her when I was a child. In my stubbornness I often really didn't want to be there in the hot sun, but she would gently point out features on plants that she liked, trying to encourage me to learn how to see things for their inherent beauty. But what I remember is that on the back wall of her house she had a full wall of exotic plants and orchids. Her entire back yard was full of gorgeous and well-tended plants, and not just "generic" plants, she had lillies, orchids, roses, hibiscus, ferns, and all kinds of stuff I could never name. I do remember discussion about an "elephant ear" plant once; that's the degree of "coolness" of her yard. But I always appreciated that wall of the tropics.
So anyway, I have this little purple orchid. Little Purple Orchid has convinced me to add White Orchid, soon joined by Yellow Orchid and The Orchid That I Forgot What it Looks Like. It has been angry since about October when I got it on clearance and is just now starting to throw up a new stalk. It was on clearance because it was ending its bloom and leaves sticking out of bark don't exactly fly off of Lowe's shelves. If it blooms I'll post a picture. If not, well, I have a lovely pot of bark with leaves sticking out of it. But everything is still very much alive, and White Orchid regularly goes nuts.
My orchids taught me that I could indeed keep a plant alive, and for an extended period of time. Amazing.
Then I had this inkling that maybe I could combine this with something I really enjoy...eating :D Thus, the hobo veggie garden was born. I was hesitant given my earlier massacre, but I had recently reclaimed my patio from the dog and had the entire thing to my disposal. But, the tricky part is I wanted my garden to be cheap. I had a few pots already, cost savings right there. A coworker also gave me some pots that were found abandoned at her house when she moved in. Gravy. So, I started my little veggie garden with a bell pepper plant, cherry tomato bush, strawberry, basil, and a Japanese cucumber. After studying the sunlight patterns on my patio, I got them into just the right spot and they went nuts! They were soon joined by another tomato plant (I love cherry tomatoes like nothing else). My tomato plants are growing up a rung on their cages every week. This was of course incredibly exciting and I managed to kill the poor basil plant by overwatering it. Oops. Lesson learned, and I've since created a watering schedule.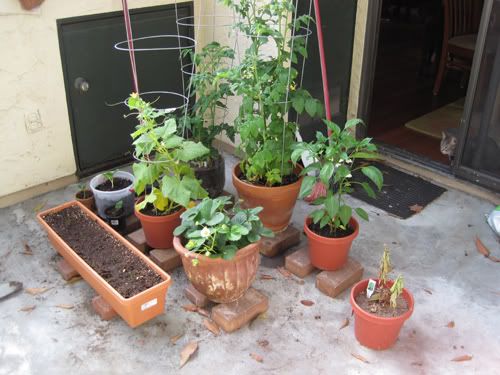 As an aside, I talked to one of the sweet ladies on my Temple shift and she gave me some great pointers for how to pick out transplants from the garden center. She said to look for the pots that had multiple stalks growing because that will give you the highest yield for the same price. She also described an elaborate way that some plants could be split but I think keeping the plant alive is a good starting point. So, with a little bit of digging all of my transplants had multiple stalks and it has paid off.
Soon after I got brave and started working with seeds. Again I got myself into a pickle because going on past experience, I assumed no seeds would sprout. Well, a lot did. I now have a bunch of red onions spouting up and four zucchini plants. I transplanted the "extra" zucchini into spare pots and if they still look good later on this week, will have new adoptive homes this weekend. I've been told zucchini are nutso plants to produce tons of squash. I can't eat THAT much.
The onions, well, I haven't the foggiest what I'm going to do with them or even how to tell when they're ready for use. Google time. Because they're growing all smooshed together I fully expect them to coagulate into some hideous creature that breaks into my house at night to eat dog food.
I also have a bunch of tomatoes that don't seem to want to ripen, so they may be spending some time with a banana to gas into deliciousness :) I also enjoyed my first cucumber today and it was wonderful. Sorry, the camera could not be reached before I snarfed down the entire thing. But, here's its little friend that will be enjoyed in a few weeks.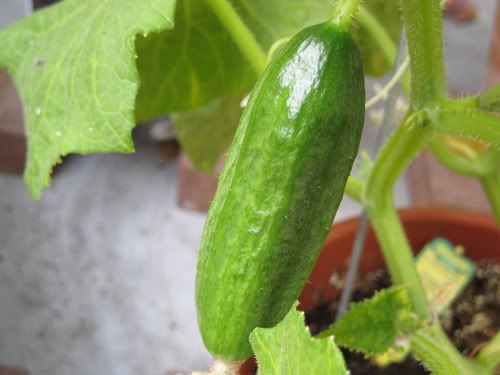 Another fun bit: things literally happening overnight. Yesterday I had no bell peppers starting up. Today I have two infantile capsicums.
You might have noticed my "interesting" choice of planters on the zucchini and tomato. Yes, I'm cheap, and these were free. We get huge containers of pretzels at Costco for work and I swipe the buckets when they're empty. Among many other handy household uses, they make fabulous planters if you cut the tops off and cut out some draining holes. Speaking of drainage, the bricks I have my planters up on are critical to keeping the plants happy. Babies don't like soggy diapers, and plants don't like soggy soil. Allowing a fast and efficient way for excess water to escape is key.
A hummingbird feeder was added recently. A hummingbird and I had a funny run in with each other, so I check it before I go outside now. The cat approves.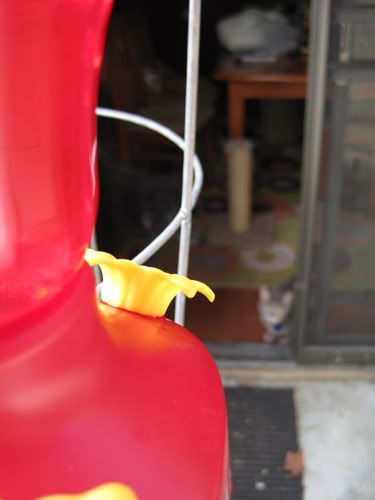 I don't think I've spent more than $40 on all of this. Container gardening is definitely within reach of nearly any budget, all it takes is a little bit of time and patience. And, a little bit of cost analysis - if my bell pepper plant produces two peppers, it has paid for itself. The same is true for a lot of the other plants, without the drive to the supermarket and with all of the satisfaction of watching my dinner grow.