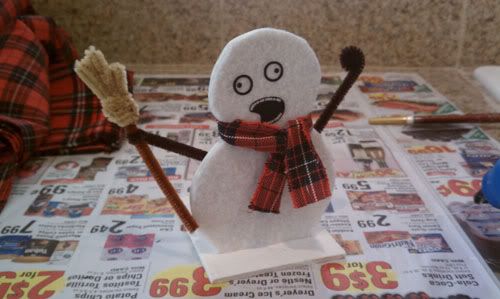 I've been freakishly busy. I present a brain dump to get this blog back up to date.
July
Paula's high school graduation cake. This was super fun to put together, but I think I'm liking the speed of buttercream over fondant.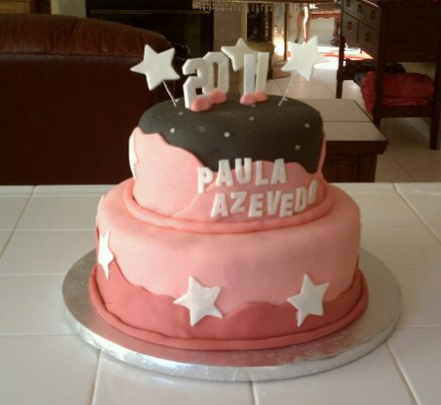 September
Mom had a knee replacement, and I was the designated puke catcher and ice fetcher. Percocet is a good thing to have around.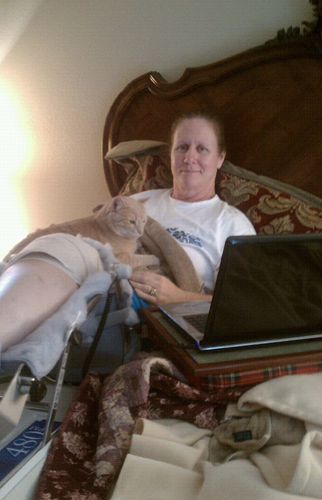 October
Two of the Something in the Water babies had their first birthday parties and I got to make their cakes.
Cake #1 (seriously, you have to be a pretty cool kid to get a three tier first birthday cake)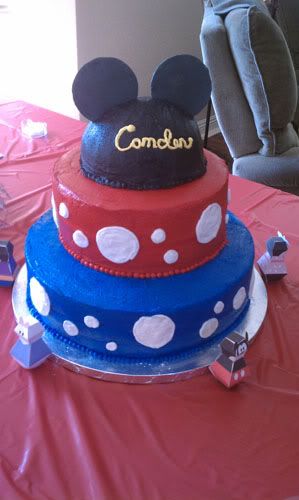 I grew up helping my mom with cakes, so this wasn't a technical challenge, but I didn't quite consider that my mom's kitchen is quite a bit larger than mine. My poor freezer!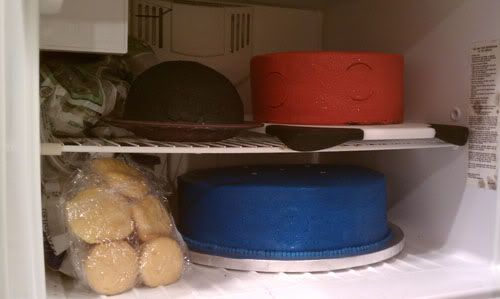 And then we have the drama of the red frosting. There is SO MUCH food color in this it is frightening. I actually told the moms at this party to not let their kids eat the red if they weren't planning to throw out their clothes already. I frosted this cake with bright pink frosting and crossed my fingers. It delightfully matured into red overnight. (Yeah, I didn't know how I was going to fix that if it went horribly wrong.)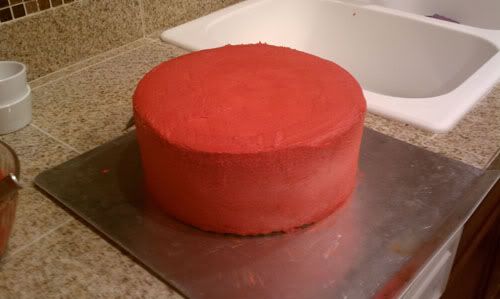 One of the lousy things about where I live is that it can be difficult to get out of my complex because I live on a freeway. We fortunately have a center turn lane at our disposal for left turns, but even then it can be a while when traffic is heavy, and add in poor visibility in both directions to boot! It can be even more nerve wracking to transport delicate items because we have a steep driveway that likes to eat my car's belly. I've gotten good at slinking in and out, but it takes me going slow. Cakes don't like to be held at an angle for too long. I got all of the pieces of this cake loaded up and as I drove down to the driveway I said a little prayer. I said, "Heavenly Father, please let me be able to take my time turning left so I don't damage Camden's first cake." Get to the driveway...


not
a
car
in
sight
Those of you who know where I live know how improbable this is (and that this is an answered prayer), but it does happen every once in a while. It's certainly nice when it does happen.
And we also have my first foray into royal icing, cake #2. Not bad, but I learned a lot and Ariya was a happy girl.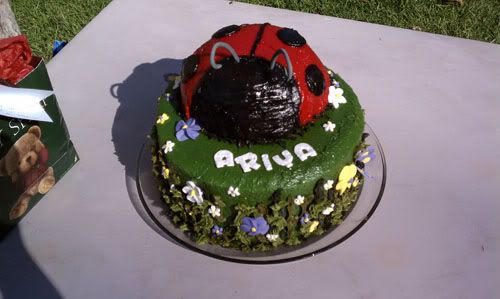 This cake was actually super fun to put together, especially since final assembly took place in the back of my car.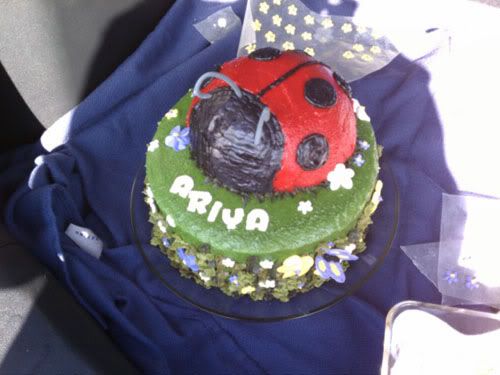 I also made a fun banner for this party (shown here unassembled). One of my grandiose ideas is to design a variety of banner themes and customize them for sale. All it takes is time.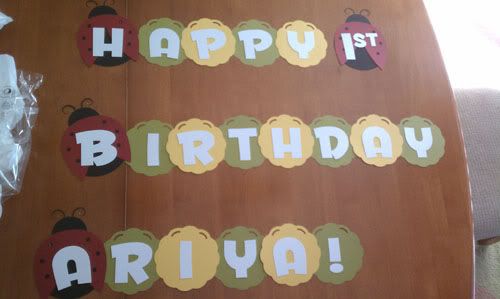 And I did a better job with the next royal icing project...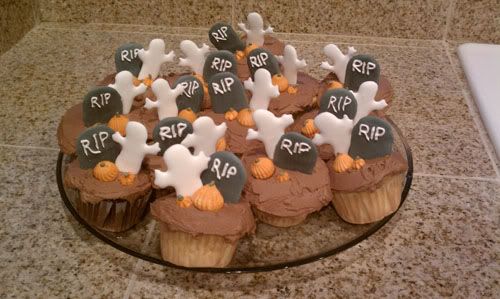 All of this cake baking/icing making made me crack down and buy a stand mixer. I sparkly heart my new KitchenAid! I'm actually convinced that life is indeed better with a stand mixer. Everything before this point was made with my little hand mixer...yeah, that Mickey cake has five individual layers that each took multiple mixes. LOTS of mixing.
November
One of my coworkers and I were put in charge of the company holiday party and that meant that Michelle was a busy little bee.
I designed and sewed gift bags for the kids (uber mega props to my mom for saving my butt and sewing three more the night before the party when I had a last minute RSVP).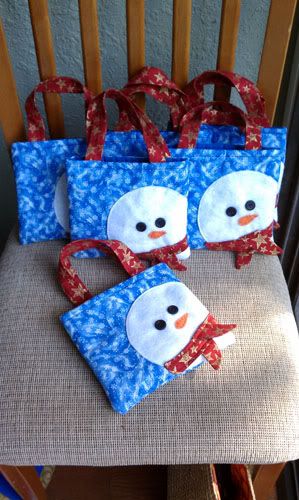 We also got to develop a theme and plan decorations. I should mention that said coworker frequently helps with her sister's catering business and is a creative person like me. Would you believe me when I say that two creative people (who also love to cook!!!) planing a party is a dangerous thing?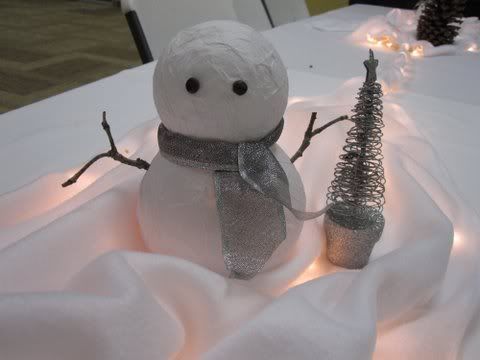 My boss loved these snowmen so much he stole two to put on his desk until the new year. I didn't have the heart to tell him I made them with toilet paper. Perhaps I'll post up a tutorial if there's enough interest as they were quite easy. I was quite tickled when they showed up on my desk when the holidays were over. Them being there meant "put these away for next year." Nice when your stuff doesn't go in the round file!
And, the crowning glory was my Nerf shooting gallery.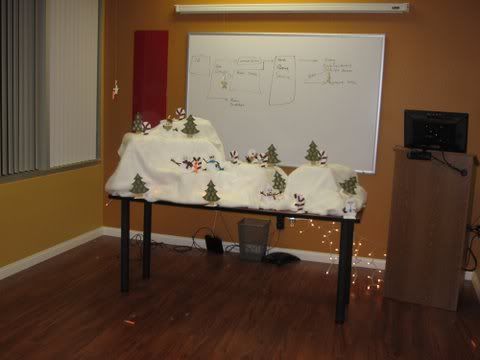 I hand made all of these targets plus candy cane and tree targets (each with different point values). My coworkers LOVED them, but didn't get much of a chance to play because we couldn't get the kids out of there! Nevertheless, they are packed up for use this holiday season :)
Snowmen gang
Sly humor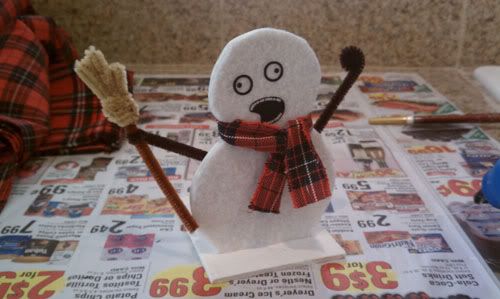 I also shot a gun for the first time. My first clip ever. No big deal.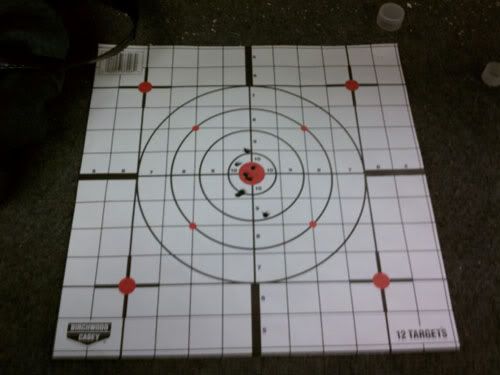 December
I should note that during all of this I was in school. I've been wanting to learn more web development (I know web design) because it will help me immensely at work. I was able to snag a seat in a PHP class this past semester and learned quite a bit. I still have a lot of learning to do, and I have yet to find a resource that explains web scripting with cute little pictures. I could understand quantum physics if you drew me a picture. Try to explain it, yeah right, I'll lose interest and start making crochet patterns in my head. In any case, I'm now starting to integrate PHP into my freelance work which has been a fun learning experience. Ultimately I need to learn ASP, but when it comes to a process that I'm not inherently adept at I need to start small. The engineers at work (who learned PHP in college) quite enjoy my ridiculous questions.
I present my final PHP assignment - an interactive family recipe website. We spent quite a bit of time actually making all of these recipes so I could photograph them.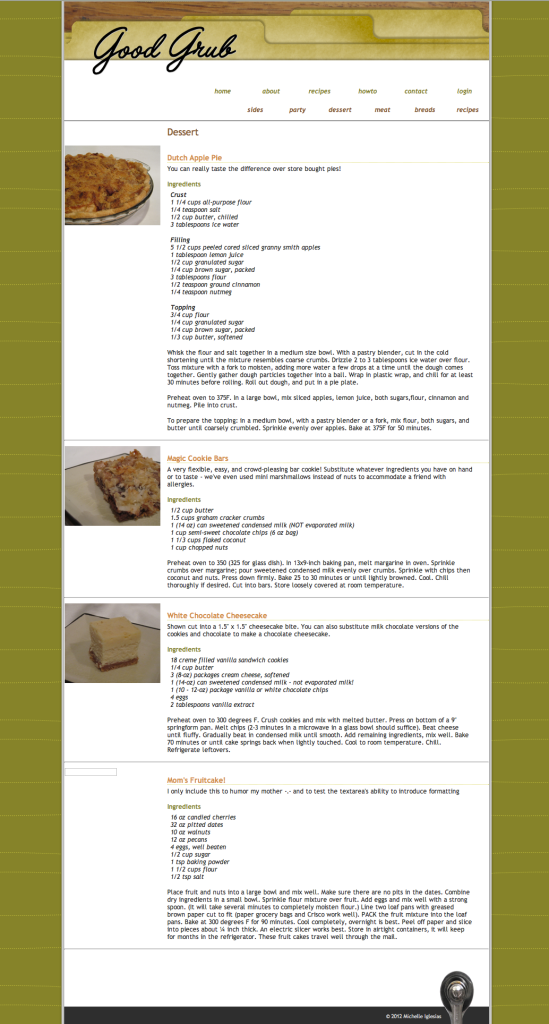 My next class, an advanced web design course (yes, I said design, not development), starts this Thursday. Oy.
When the site was live (a new semester has started so it has been cleared off the server) it synched up to a MySQL database and a user could log in and edit the recipes. Add and delete them too! This was a terrifying project but once I got my loops and forms straight it wasn't so bad. I also got to tear my kitchen apart taking pictures of all of my tools and gadgets for the interface.
And then we have Christmas
Travel toiletries kits for my aunt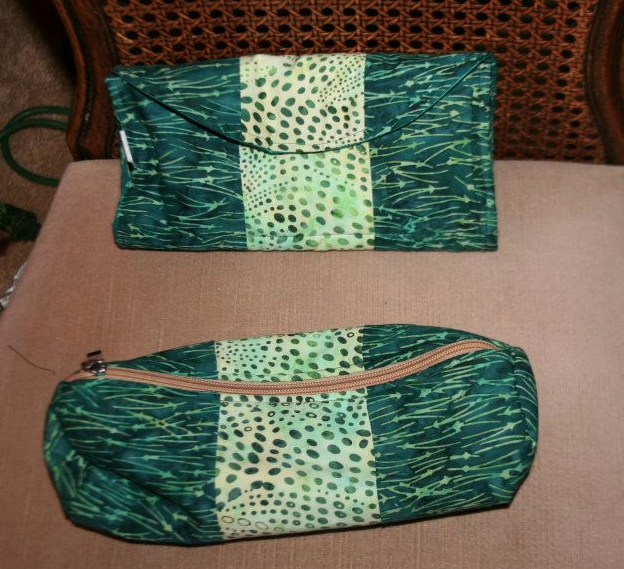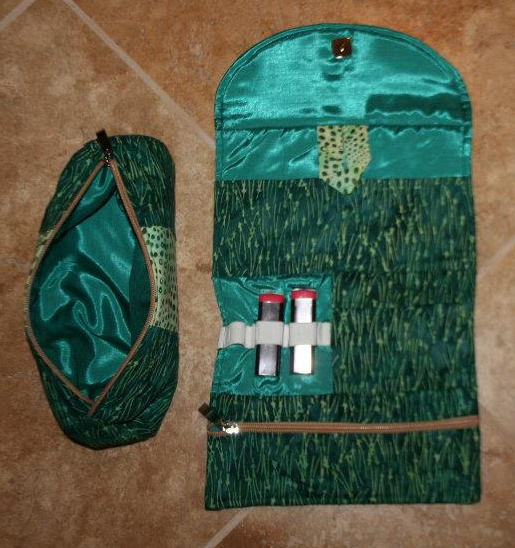 Mario coasters for my little brother (you have no idea how many of these I have to make for people now).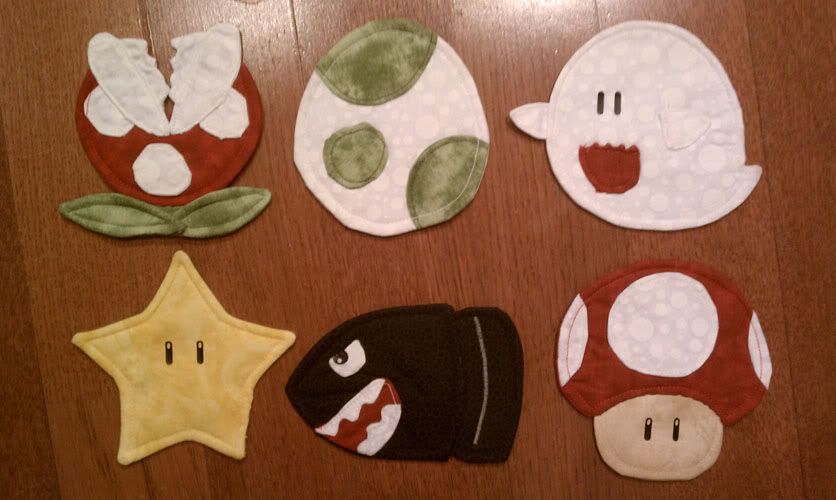 January
Would you guess that another friend is pregnant? Yup, time for more gifts!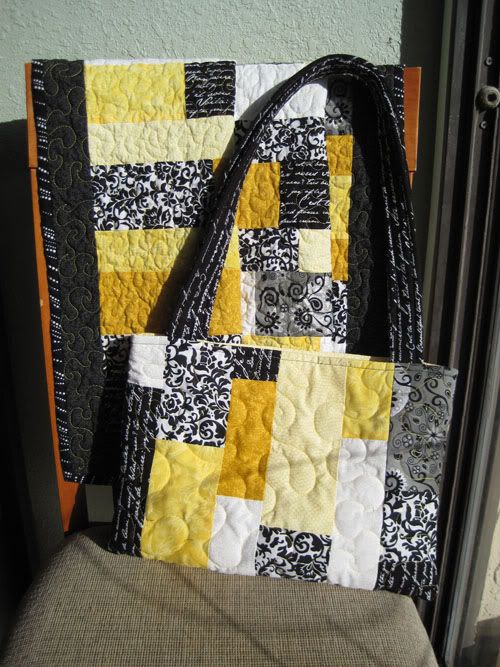 I included this as a "trinket" on the gift. It's an owl finger puppet.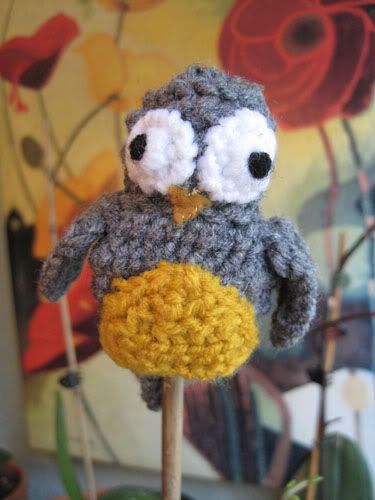 ---
What's next? Well, I'm not sure. It all depends on time. I have so many ideas floating around in this crusty old brain and I quite often daydream of putting all the things together. I'm getting back into crochet and I desperately want to make this quiet book I've been talking about, so who knows? Maybe I'll get my act together one of these days.