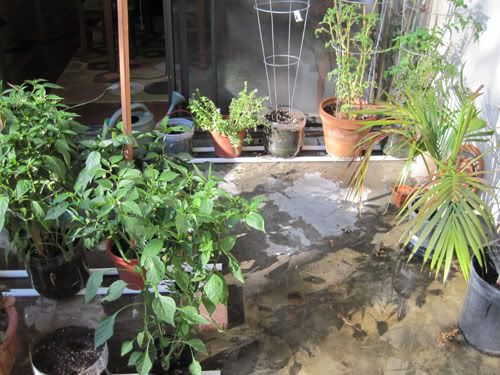 I mentioned in a previous post about how plants like dry bottoms. Can't say I blame them. I recommended perching your plants atop bricks to give their tooshies some breathing room. But, when you live on the second floor and it's a hike from your car, well, that idea just kind of sucks.




So, yesterday I was pondering some new additions to my garden but I was out of bricks, so I'd have to buy another load and haul it up the stairs, which gets old really fast (this is why my next house will have an attached or semi-attached garage). But, then I had an idea! Why not replace the bricks with PVC pipe? Sure, it's not so pretty but it's dirt cheap (.98 for 10'), super lightweight, and is still perfectly adaptable to any garden.


Just make sure you take a saw to the home center if you have a wee little car. Of all the things my amazing little car can haul, 10' lengths of anything are not on that list. But bendy stuff can be crammed in. Seriously, Honda, if you make the next Fit 6" longer I will be first in line.


Handy that I keep sparring gear in my car to keep the ends from scratching up my interior...

When setting up your PVC you may have some issues with it rolling, especially if your garden is on a sloped surface (as mine is). You can remedy this by sticking some T connectors on the ends, or just park some bricks in front of the downhill PVC. The aviation nerd in me says to tell you this is technically putting chocks down ;) The other plus to this is that items can be slid around and adjusted, without having to move any bricks. My particular problem was that my current arrangement was difficult to water because my hose couldn't reach some areas easily. With some moving things around I was able to fix that quite nicely.


My garden was due for a cleanup after the storm this week, as I live under the tyranny of some seriously messy trees. Plus, my zucchini contracted some crazy fungus that caused some die off in other areas, so some stuff just needed to be restarted. I also started an adventure into growing lettuce, hoping that it's now cool enough. We'll see how it goes!


Before... (this was actually mid cleanup - the real before was bad)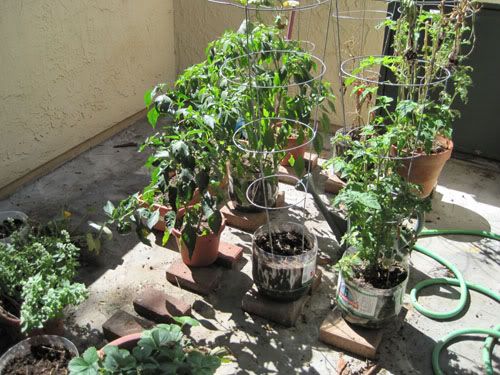 And after...